Do you have good balance?
Balance is often negatively affected because seniors lose feeling in their feet due to arthritis, diabetes, poor circulation or complications from a stroke. Some medications have side effects that impact balance. In addition, mild dementia also causes balance problems. So, what can you do? Proper exercise builds strength and improves gait and balance. In a nutshell…proper exercise reduces fall risk.
It can be hard to stay motivated to exercise especially in the colder weather when you are homebound.
Try standing at a counter and do knee-bends, or practice balancing on one leg. March in place. Stand up from your chair, sit down and then stand again to keep legs strong. It's very important to consult with a therapist on proper exercise. Call AW Health Care. We have therapists who can come to your home or apartment to help you with proper exercise. In Missouri: (314) 726-5600. In Illinois: (618) 344-8800.
Be Safe
If the weather is bad, don't go out if you are tired or not feeling well. This increases your chance of falling. If you do need to get out, carry a cell phone so you can get help quickly in case of a fall. Bundle up to stay warm but make sure you can see in all directions and move easily and freely.
Watch Your Step
Call a service to clear your walkway of snow and put down salt. It's worth it. Be sure to keep some extra salt on hand to sprinkle around the pathway out to the car or mailbox. Snow can hide uneven surfaces and curbs so watch where your foot will land! Wear boots or rubber-soled shoes even if you just need to get the mail. Dry off shoes and assistive devices when you come indoors. Wet shoes on dry surfaces can be slippery too! You might ask your therapist about winter canes or cleats you can add to your shoes to decrease fall risk if you regularly go out.
We Celebrate Dr. King!
Martin Luther King, Jr. Day was signed into law in January 1983 by President Ronald Reagan. It is celebrated on the third Monday in January each year. On this day we celebrate Dr. King's immeasurable contribution to civil rights in the United States and to humankind.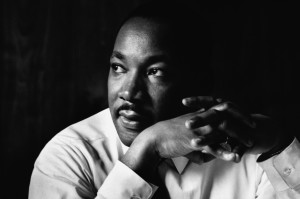 Martin Luther King, Jr. was born on January 15, 1929 and was assassinated on April 4, 1968. He was an American Baptist minister, activist, humanitarian and leader of the African-American Civil Rights Movement. He is best known for his advancement of civil rights using nonviolent civil disobedience based on his Christian beliefs for which he received the Nobel Peace Prize in 1964. This is a time when the nation pauses to remember Dr. King's life and work. Many honor his legacy by making this holiday a day of community service: "a day on, not a day off."