AW Health Care provides medical home care services to clients within the St. Louis metropolitan area including St. Louis City and the Missouri counties of St. Louis, Jefferson, Franklin, St. Charles, Warren and Lincoln Counties. Our Illinois office provides services to clients residing in the Illinois counties of Madison, Macoupin, St. Clair, Clinton, Monroe, Washington and Bond. We offer outpatient therapy services at our University City, Missouri clinic and at "The Fairwinds" clinic located in St. Charles, Missouri.
Please click on the tabs below for directions to our outpatient therapy locations and to find maps of the areas we serve.
University City Office
7208 – 7216 Balson Ave
St. Louis, MO 63130
p : (314) 726-5600
f : (314) 754-9317
St. Charles County Office
Fairwinds Independent Living
600 Rivers Edge Drive
St Charles, MO 63303
p : (314) 305-4508
f : (636) 754-2709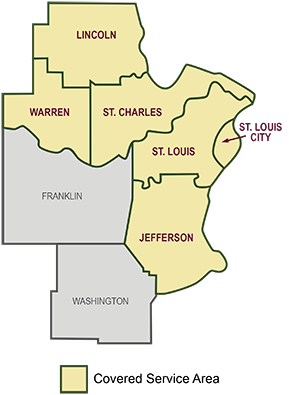 AW Health Care Services in Missouri
AW Health Care provides comprehensive support for its home health patients with chronic diseases and post-acute care needs. In addition, AW provides the highest quality home care to improve safety and maintain independence to meet the standards set by each individual client.
AW Health Care is centrally located in a beautiful residential area of St. Louis County in University City.
There is ample parking available to guests. The main office is at 7208 – 7216 Balson Avenue, University City, Missouri 63130.
This office offers many services including:
Medical Home Health
Outpatient Physical Therapy
Adult Day Care
Transportation
Non-Medical Home Care
AW Health Care also has an office in Wentzville, Missouri to better serve the communities of West St. Louis, County and counties further west and north. The Wentzville office is located at:
24 West Main Street, Suite 218
Wentzville, MO 63385
p : (314) 726-5600
f : (636) 235-4267
Services at our Wentzville office include:
Medical Home Health
Personal Home Care
Consumer Directed Services